Centennial Skiers
Hi Everyone, I sat down with Freeskier last week to catch up on the Centennial Peaks project. Here is the entire article.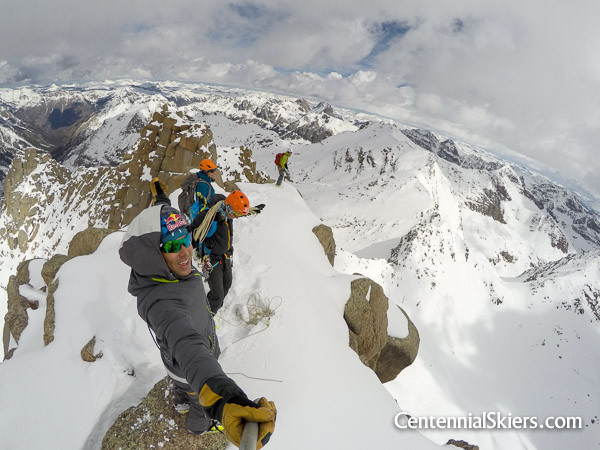 It's no secret that Chris Davenport likes to up the ante when it comes to ski mountaineering. That's why for the past month, along with fellow Aspenites Ted and Christy Mahon, he's been on a mission to ski the hundred highest peaks in the state of Colorado, also known as the Centennial Peaks. All three have already completed skiing all of Colorado's 14,000 foot peaks (the 14ers) in the past and starting April 29th, they set out to ski the 47 highest 13,000 foot peaks in Colorado. Dav checked in with Freeskier after tackling 13,845 foot Mount Oklahoma in the state's Sawatch Range.
Q&A
Tell us about the inspiration for this Ski The 13ers trip:
I just love a good old fashioned road trip, especially in the springtime when the ski mountaineering gets good. It's just fun to load the truck or RV with a bunch of friends, we're working with Whole Foods Market so we filled up our RV with awesome food from Whole Foods and just hit the road. It's good living, you get up at 4:30 a.m. every day, you eat, you hit the trail and we're done at 1 or 2 in the afternoon and we get to chill or drive to the next trailhead and it's just such a fun adventure. I just love skiing new mountains, new peaks that I've never been on, because every time you stand on a new summit you get a different perspective and a different view of the world and other mountains and that's exactly what's been going on.
Who's on the trip with you?
A lot of people, it's a rotating cast of characters. The three principle people behind this project are myself and Ted and Christy Mahon. The three of us are trying to complete this project together. We've all skied all of the 14ers, Christy was the first woman to do so and Ted completed them after I did. So, we wanted to sort of be the first people to raise the bar once again, ski the centennial peaks, the hundred highest peaks in Colorado, that's never been done.
Here is the entire article…
Thanks for following along – Dav.
This is what I live for.
/ DAV