VIEW FROM THE TOP
I need to stay true to that same kid that rode the chairlift when he was 13 years old and decided he wanted to ski everyday. That's who I am.
/ DAV
About Chris Davenport
Two-time World Champion skier Chris Davenport is widely regarded as one of the premier big mountain skiers in the world today.  Among his many ski mountaineering achievements, in 2007 Chris became the first person to ski all fifty-four of Colorado's 14,000-foot peaks in less than one year.  He has numerous first descents of peaks around the globe under his belt, and recently guided and skied on Mt. Everest  Chris has been featured in more than thirty ski films by Warren Miller and Matchstick Productions.
He is also a TV commentator for ESPN, ABC sports, and Outside Television, and is an Olympic and World Cup announcer for ski racing events. Chris is a professional speaker who often lectures on risk management as it relates to business and mountain sports. Chris is the author of two beautiful coffee-table books that celebrate North America's mountains, Ski The 14ers and Fifty Classic Ski Descents of North America. When not traveling the globe Chris resides in Aspen, Colorado with his wife and three boys.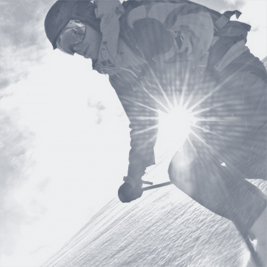 1996 World Extreme Skiing Champion
1996 New Zealand Heli Challenge Champion
1998 ESPN X-Games Bronze Medal
2000 Canadian Freeskiing Championships – Blackcomb: 2nd
2000 North American Freeskiing Championships – Snowbird: 3rd
2000 Rip Curl Heli Challenge, New Zealand: 3rd (1st on Extreme day)
2002 Powder Magazine Reader's Pole Award
2002 NEA Award Nominee (World Extreme Sports Awards)
2003 Wild Dash for Cash Chinese Downhill Champion, Aspen.
2005 Powder Magazine Reader's Poll Award
2005 O'Neill Xtreme by Swatch Freeride Contest, 2nd Place, Verbier, Switz.
2007 Everest Award Winner- Expedition of the Year (14ers)
1996 24 Hours of Aspen: 2nd
1997 Jackson Hole Big Mountain Contest: 2nd
1998 24 Hours of Aspen Champion
2000 NBC Gravity Games Big Mountain Contest: 2nd
2000 Red Bull Snowthrill of Alaska, IFSA World Freeskiing Champion
2001 Red Bull UltraCross Champion
2002 Red Bull Snowthrill of Alaska World Champion's Choice Award (with photographer Scott Markewitz)
2003 Voted one of Aspen's 100 Most Influential People, Sojourner Magazine.
2004 Powder Magazine Reader's Poll Award
2005 Red Bull Hike and Ride Champion, Switzerland
2006 Powder Magazine Reader's Poll Award
2007 Red Bull Jungfrau Staffette Champion