By the time this is posted we will be at basecamp…
We are now just two days away from Everest basecamp and feeling fit and ready to move up.  The last two days were spent in Dingboche, a village at 4300 meters at the confluence of the valley the leads up to Island Peak below the South Face of Lhotse and the valley that leads up to basecamp.  Our team is enjoying the easy pace of a mellow approach. (our summit window is still over a month away)  Taking it slow on the way up will help insure our health and strength as we move higher and higher up the mountain.  Neal and I got out on a fun trail run yesterday and went above 5000 meters for the first time.  The 12km jog felt great for the engine and we made sure to hydrate well afterwards.

We have been running into all sorts of folk we know along the way and were all thrilled to see Aspenite Lindon Mallory this morning.  Lindon is guiding Everest for Rainier Mountaineering and was just coming off an Island Peak climb with a different group. We will see Lindon up in BC after he sends his trekkers home.  As for our schedule tomorrow we will move up to the village of Lobuche for one night.
Here are some pics from the last two days.
The perfect start to the morning- or a post lunch pick-me-up!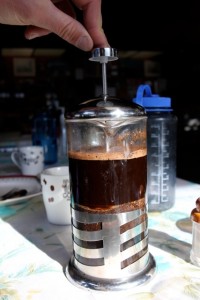 The beautiful and sacred Tengboche Monastery.  You can just see the village of Kumjung in the distance.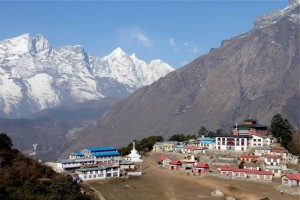 I got up early this morning and walked up a ridge to shoot photos of one of the most amazing peaks in the range, the incredible Kantega.  Pick your line!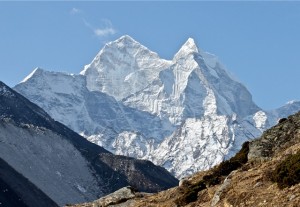 Ephi and Bill descend from one of our acclimatization hikes.  We went up the west ridge of Ama Dablam a little ways to gain some altitude and enjoy the insane views of the West Face of Ama.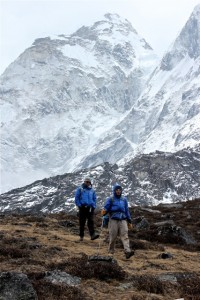 You see porters carrying a wide variety of cargo… but this lad won the day for pure volume!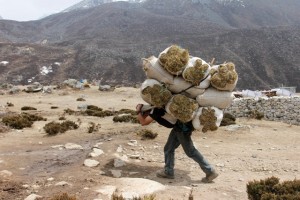 And lastly the lovely and welcoming Snow Lion Lodge in Dingboche, where we have spent three comfortable nights on our way to the mountain.