Greetings and Namaste from Namche Bazaar in the Khumbu Valley,
Our group is on day four of our trek towards basecamp and we are enjoying an easy pace with the goal of proper acclimatization.  Namche is an amazing town and one of the hubs of Sherpa culture.  The last time I was here was on my way out of a Baruntse expedition in 1999 and I am really amazed how this place has grown up.  The quality and size of the tea houses (lodges) has definitely improved to the point that there is an element of luxury here that never existed before.  Combine that with the fact that there is wireless internet and cell service everywhere and this high mountain hamlet really has all the comforts of home.  Now the irony is that we all hope to get away from these things when on an expedition, but that's just the way it is now here, so why not embrace it?  It's really nice to be able to call home on my Nepali cell phone and talk for 5 minutes for 50 cents!
Hiking above Namche Bazaar: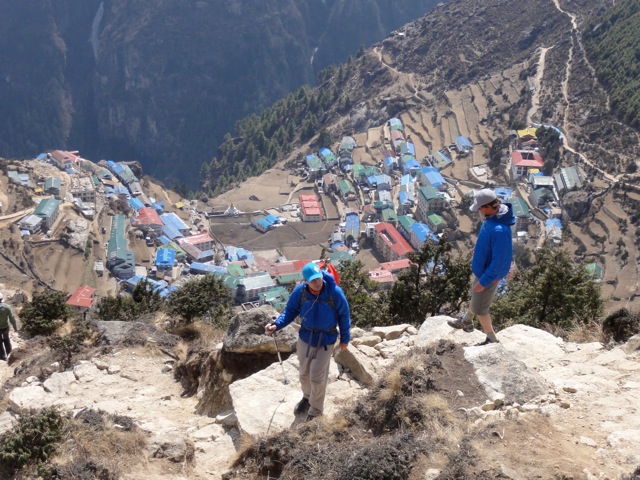 Since we have a couple rest days here we have been going on day hikes and enjoying our first views of peaks like Thamserku, Ama Dablam, Lhotse, Everest, Taboche, and Kusum Kanguru.  There are two things that I love about the Himalaya, the epic views and the Sherpas.  Both are so uplifting… the views for obvious reasons, and the Sherpas for their tireless hospitality, big smiles, incredible work ethic, and genuine happiness.  There may not be a more peaceful and beautiful people in the world.
A young Sherpa girl: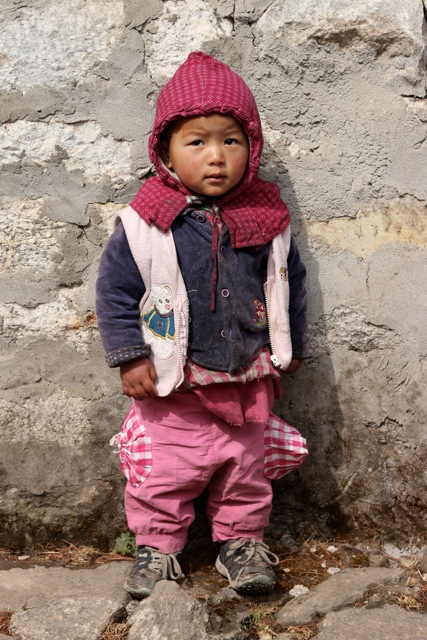 The early morning view up the Khumbu valley with Ama Dablam on the right, Lhotse at center, and Everest poking up on the left.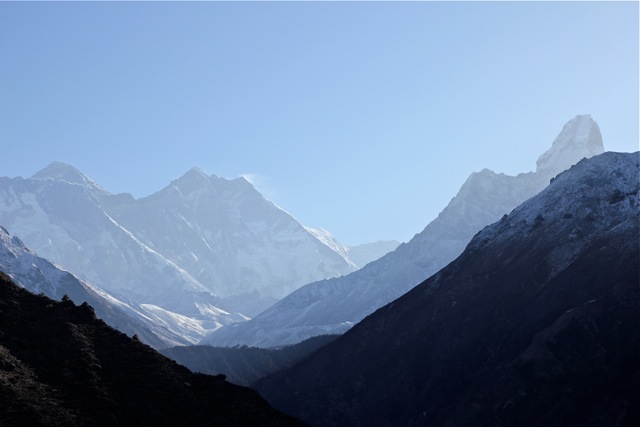 And lastly, I ran into one of my closest friends up here yesterday.  Rob Frost has been in the Himalaya working for Mountain Hardwear and Sender Films shooting Ueli Steck and Freddie Wilkinson climbing peaks like Lobuche and Cholatse.  They were on their way out to Kathmandu to regroup and then head to the 8000m peak Shishapangma, and we got to spend a good amount of time together here in Namche. Rob and I grew up ski racing together and he was my first, and perhaps best, climbing partner.  Good to see you Frosty and Freddie and safe travels.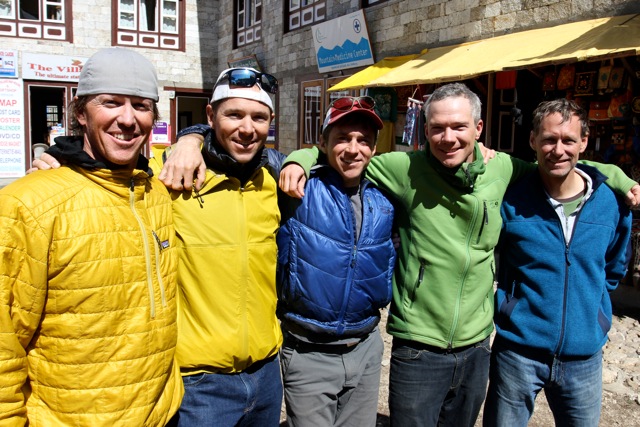 Bill Allen, Me, Rob Frost, Freddie Wilkinson, and Neal Beidleman
All right, that's it for now.  Remember you can also follow our Everest expedition on the Mountain Trip blog at mteverest2011.com
Thanks for reading,
Chris