Join me this winter in an organized camp or create your own private ski adventure. If you are interested in private guiding or unique destination ski experiences please email chris@steepskiing.com and let's make your dreams come true.
– Dav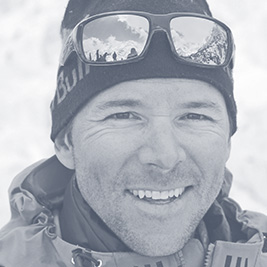 UPCOMING ADVENTURES

When:
August 6-13, 2016
Where:
SKI PORTILLO, CHILE
Value:
$2900
13th Annual Superstars Ski Camp
August 6-13, 2016
Ski Portillo, Chile
Professional skier, guide, and camp operator Chris Davenport is proud to announce the dates for the thirteenth- annual Superstars Ski Camp at Ski Portillo, Chile. The camp will take place August 6–13, 2016 and is open to a maximum of thirty advanced skiers.
Joining Chris Davenport are world-famous professional skiers and coaches Mike Douglas of Whistler, BC, Wendy Fisher of Crested Butte, CO, Jess McMillan of Jackson, WY, and Chris Anthony of Vail, CO. Professional photographer Jesse Hoffman will be capturing the experience with still photos and ski-action video, assisted by Stian Davenport, Chris's son.
"The camp is open to all expert skiers looking to take their skiing to the next level," says Davenport. "It's a really fun vibe. We do some drills and work on skills, but mostly we just go out and ski hard in a variety of terrain, and
expect to do some hiking, traversing, and exploring in search of the best lines and best snow in South America."
Sitting on the banks of the beautiful Laguna del Inca, Hotel Portillo is surrounded by terrain that beckons skiers from all over the world. Attendees of the Superstars Camp find wide-open powder fields with untracked powder, technical chutes carved into the Andes, a variety of rocks to jump off for skiers looking to log some air time, and pristine lines accessed by short hikes. With the Superstar coaches passing along tips and advice, all of Portillo's famed terrain opens up to attendees of the camp.
"I fell in love with Portillo—the ambiance, the authenticity, the nostalgia there," says Davenport. "It is all about skiing in Portillo: no shopping, no real estate, nothing! We have had so much fun skiing and coaching amazing people from all over the world in Portillo. The terrain and the hotel make Ski Portillo the perfect environment for improving skiing and a world-class location for this type of ski-week. We have kept coming back for 12 consecutive years because the coaches and I all agree it's one of the most fun weeks we experience throughout the year."
CAMP INFO
The cost of the camp is US$2900 and includes seven days coaching and activities both on and off the hill, including exclusive presentations by the professional staff, a world-class gift bag, and images and video of each client's skiing highlights.
Note that the Hotel Portillo ski week (including seven nights accommodation, eight days lift tickets, four meals daily, and access to all the Hotel's amenities, start at US$3200 per person in the grand Hotel Portillo and US$1850 at the Octagon Lodge are an additional cost.
To book this amazing skiing experience, guests should first book a Ski Week at Ski Portillo with Odilia Briones, odilia@skiportillo.com or Carolina Acuña, carolina@skiportillo.com. A seven-day ski week includes accommodations, lift tickets and four daily meals. After getting a hotel confirmation, please email Chris Davenport at chris@steepskiing.com to confirm your place in the camp. Please do not hesitate to email Chris with any additional questions.